Blood Business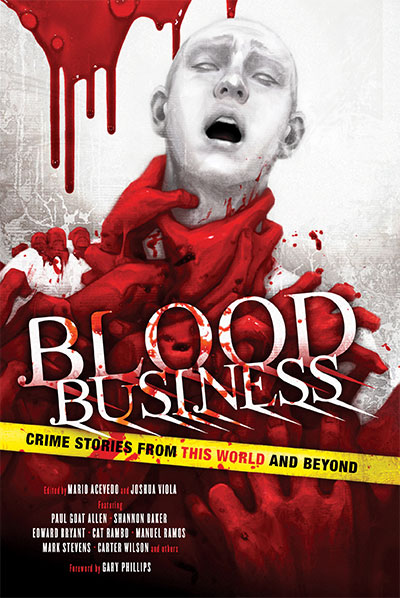 Two books, one anthology.
The grift. The scam. The double-cross. Blackmail and burglary; murder and larceny. Blood Business tracks the underbelly of human nature through the muck of our lesser angels in twenty-seven crime stories set in this world...and beyond.
Edited by Mario Acevedo and Joshua Viola
330 pages
ISBN-13: 978-0-9986667-9-2
Table of Contents [+]
Table Of Contents From This World
FOREWORD
Gary Phillips
INTRODUCTION
Mario Acevedo
DOUBLING DOWN ON DEATH
Edward Bryant
BONE ON WOOD
Mark Stevens
BLACK AND BLUE
Carter Wilson
GIRLS GONE WILD
Cat Rambo
NIGHT IN TUNISIA
Manuel Ramos
AN OFFICER AND A HITMAN
Gary Jonas
SLUG
Paul Goat Allen
MORPHING
Alvaro Zinos-Amaro
THE PLEDGE
Mark Stevens & Dean Wyant
SHADOWS WITHIN SHADOWS
Mark Stevens & Dean Wyant
IT DOESN'T MEAN ANYTHING
Shannon Baker
THE GUESSING GAME
Sean Eads
STRAIGHT TO THE TOP
Trevor Jones
Table Of Contents From Beyond
BITTEN OFF
Edward Bryant
A CLAMOR OF BONES
Alyssa Wong
DIVIDED THEY FALL
Patrick Berry
JANE DOE MUST DIE
Angie Hodapp
OUTSORCERY
Joshua Viola
DO IT ALREADY
Stephen Graham Jones
LUNCHTIME
Jeanne C. Stein
NUMERAL ELEVEN
Jason Heller
A ROSE BY ANY OTHER NAME
Betsy Dornbusch
SHOE
Aaron Michael Ritchey
CARD SHARP
Kat Richardson
TAKERS FIND GIVERS
Mario Acevedo
THE COMBO
Warren Hammond
THE GROUP HOME
Chris Holm
AFTERWORD
Christine Goff
THE ASH OF THE PHOENIX: REMEMBERING EDWARD BRYANT
Sean Eads
"In
Blood Business
, duality is a theme but nuance reigns. Honesty won't save you. Virtue is subjective. And what if the only difference between appearance and a reality is what we choose to believe? Cinematic at times, uncomfortably intimate at others, Blood Business is a visceral delight."
—John Wenzel, The Denver Post
"In this uniformly good anthology of noir stories, the authors are able to inject some life, of the supernatural variety, into a genre usually rife with clichés."
—IndieReader
"Take horror writing at its best and add a crime/mystery spin. Then pair this with psychological depth for the foundation of the special atmosphere and focus of Blood Business, where every story is powerfully wrought, filled with satisfying twists, and presented with a flair of originality and surprise not typically seen in crime story collections. For all these reasons,
Blood Business
is a unique, compelling, dark production very highly recommended for fans who like their crimes tinged with psychological depth and horror, and who look for original, unique, compelling productions where every story is a gem and no 'filler' is allowed."
—D. Donovan, Sr. Reviewer, Midwest Book Review
"
Blood Business
compiles an absolutely stunning collection of talent."
—Brian Keene
"Two sharp, distinctive, and complementary clusters of stories."
—Kirkus Reviews
"
Blood Business
is as satisfying as a stiff drink after a tough case. Deliciously gritty, and dark as a day-old bruise, these stories will thrill any noir fan."
—Jaye Wells, USA Today bestselling author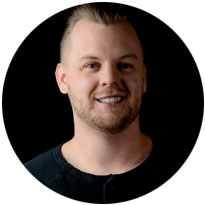 Joshua Viola is a Denver Post bestselling author, Colorado Book Award winner, and the owner of Hex Publishers.