It Came From The Multiplex: 80s Midnight Chillers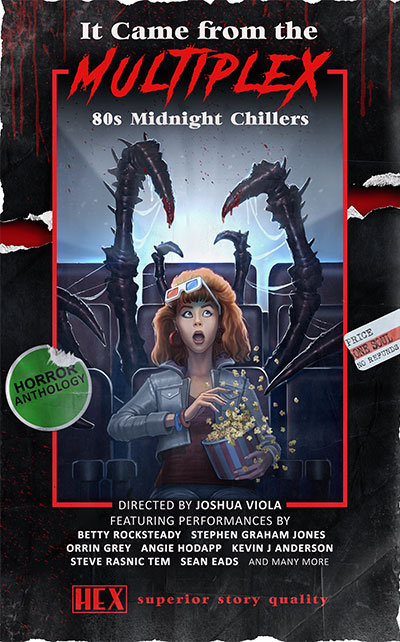 Welcome to tonight's feature presentation, brought to you by an unholy alliance of our spellcasters at Hex Publishers and movie-mages at the Colorado Festival of Horror. Please be advised that all emergency exits have been locked for this special nostalgia-curdled premiere of death. From crinkling celluloid to ferocious flesh—from the silver screen to your hammering heart—behold as a swarm of werewolves, serial killers, Satanists, Elder Gods, aliens, ghosts, and unclassifiable monsters are loosed upon your auditorium. Relax, and allow our ushers to help with your buckets of popcorn—and blood; your ticket stubs—and severed limbs; your comfort candy—and body bags. Kick back and scream as you settle into a fate worse than Hell. Tonight's director's cut is guaranteed to slash you apart.
Edited by Joshua Viola.
Produced in collaboration with the Colorado Festival of Horror
Cover art by AJ Nazzaro and Joshua Viola
Story art by Xander Smith
Header art by Aaron Lovett
Release Date: 9/15/20
316 pages
ISBNs: 978-1-7339177-5-9 (Print), 978-1-7339177-6-6 (eBook)
Table of Contents [+]
FOREWORD
Bret and Jeanni Smith
INTRODUCTION
Paul Campion
ALIEN PARASITES FROM OUTER SPACE
Warren Hammond
RETURN OF THE ALIEN PARASITES FROM OUTER SPACE
Angie Hodapp
NEGATIVE CREEP
Alvaro Zinos-Amaro
HELLULOID
Dayton Ward and Kevin Dilmore
RISE, YE VERMIN!
Betty Rocksteady
THE CRONENBERG CONCERTO
Keith Ferrell
CREATURE FEATURE
Gary Jonas
INVISIBLE
Mario Acevedo
SCREEN HAUNT
Orrin Grey
THE DEVIL'S REEL
Sean Eads and Joshua Viola
ON THE ROCKS
K. Nicole Davis
COMING ATTRACTIONS
Stephen Graham Jones
LATE SLEEPERS
Steve Rasnic Tem
SPECIAL MAKEUP
Kevin J. Anderson
"The universally well-paced, imaginative selections sizzle with energy, delivering an intoxicating blend of spine-tingling chills and 80s nostalgia.
—PUBLISHERS WEEKLY, starred review
"Highly recommended! In a literary tribute to 1980s slasher movies, these illustrious horror writers stay true to the genre formula: sex, drugs, rock n' roll, and scary monsters. These 14 creepy tales take place at drive-ins and movie theaters—where on-screen horrors burst into even worse horrors OFF the screen!"
—Brinke Stevens, actress in THE SLUMBER PARTY MASSACRE
"
IT CAME FROM THE MULTIPLEX
is absolutely perfect! Weird, twisted, gross, funny, terrifying. A true homage to a decade that inspired a generation of top storytellers!"
—Jonathan Maberry, New York Times bestselling author of V-WARS and ROT & RUIN
"These stories traverse the dark alleys of the 80s...they're the reflections of the neon bar sign in the rain puddles...they're the raw pain of a lost generation dressed in glamour and running eyeliner...they're the hidden VHS tapes at the back of the video store they warned you about—the ones you can't resist or get out of your mind after watching. This is your brain on horror. Any questions?"
—John Palisano, President of the Horror Writers Association, Bram Stoker Award®-Winning author of GHOST HEART
"An enjoyable horror anthology with a strong midnight chillers concept.
—Kirkus Reviews
"These movie-centered horror pieces are unique, literary, well-done productions that linger in the mind long after each work is read. Fans of horror and film will find this intersection of literature and horror excellent, and the diversity and talents of the short story contributors to be exceptionally well done.
—Midwest Book Review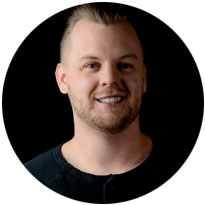 Joshua Viola is a Denver Post bestselling author, Colorado Book Award winner, and the owner of Hex Publishers.