Cyber World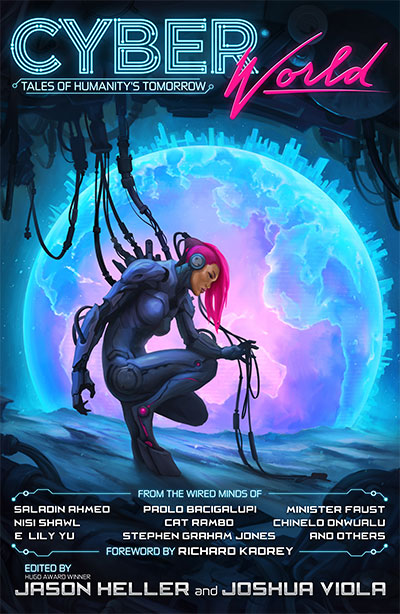 Cybernetics. Neuroscience. Nanotechnology. Genetic engineering. Hacktivism. Transhumanism. The world of tomorrow is already here, and the technological changes we all face have inspired a new wave of stories to address our fears, hopes, dreams, and desires as Homo sapiens evolve—or not—into their next incarnation. Cyber World presents diverse tales of humanity's tomorrow, as told by some of today's most gripping science fiction visionaries.
Table of Contents [+]
FOREWORD
Richard Kadrey
INTRODUCTION
Joshua Viola
SERENADE
Isabel Yap
THE MIGHTY PHIN
Nisi Shawl
REACTIONS
Mario Acevedo
THE BEES OF KIRIBATI
Warren Hammond
THE REST BETWEEN TWO NOTES
Cat Rambo
THE SINGULARITY IS IN YOUR HAIR
Matthew Kressel
PANIC CITY
Madeline Ashby
THE FAITHFUL SOLDIER, PROMPTED
Saladin Ahmed
YOUR BONES WILL NOT BE UNKNOWN
Alyssa Wong
STAUNCH
Paul Graham Raven
OTHER PEOPLE'S THOUGHTS
Chinelo Onwualu
WYSIOMG
Alvaro Zinos-Amaro
WE WILL TAKE CARE OF OUR OWN
Angie Hodapp
A SONG TRANSMUTED
Sarah Pinsker
IT'S ONLY WORDS
Keith Ferrell
SMALL OFFERINGS
Paolo Bacigalupi
DARKOUT
E. Lily Yu
VISIBLE DAMAGE
Stephen Graham Jones
THE IBEX ON THE DAY OF EXTINCTION
Minister Faust
HOW NOTHING HAPPENS
Darin Bradley
AFTERWORD
Jason Heller
Edited by Hugo Award winner Jason Heller and Joshua Viola.
250 pages
ISBN-13: 978-0-9964039-1-7
"This is old-school cyberpunk written by new-school talent--the caliber of writers found in this book is like a dream-team of storytellers ready to hack your skull and implant their tales into your brain-meats. Cyber World gives the cyberpunk genre a much-needed reboot."
—Chuck Wendig, New York Times Bestselling Author of Star Wars: Aftermath and Zeroes
"This is the upgrade: the new, real sound of diverse futures, mad and magnificent, the world on a wire. Essential."
—Warren Ellis, Author of Gun Machine and Transmetropolitan
"Killer apps outnumber the glitches in twenty short, bracing narratives of cyberpunk
sci-fi
."
—Kirkus Reviews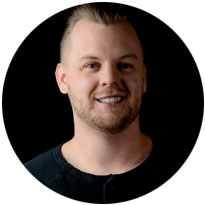 Joshua Viola is a Denver Post bestselling author, Colorado Book Award winner, and the owner of Hex Publishers.