Nightmares: Unhinged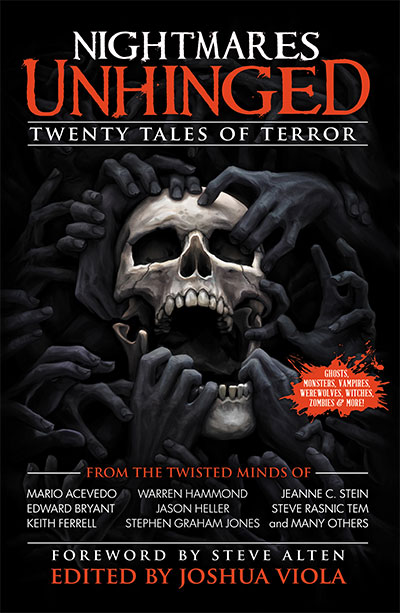 Nightmares come in many forms. Some rend the veil of sleep with heart-stopping madness. Others defy sanity to leave a helpless corner of your mind twitching for release. Sometimes, hours after waking, a nightmare drifts across your memory, tainting your day with wisps of discomfort. Nightmares Unhinged reveals horror in all its mutable forms—abject to absurd—through twenty tales of terror in this horror anthology.
Edited by Joshua Viola.
270 pages
ISBN-13: 978-0-9855590-9-0
AMC's Fear The Walking Dead: Season Two inspired by Nightmares Unhinged.
Table of Contents [+]
FOREWORD
Steve Alten
INTRODUCTION
Joshua Viola
THE BROLLACHAN
Steve Rasnic Tem
FANGS
J. V. Kyle
BE SEATED
Keith Ferrell
THE MAN WHO KILLED TEXAS
Stephen Graham Jones
SCARECROWS
Joshua Viola
ZOU GOU
Mario Acevedo
NEEDLES
Joshua Viola and Dean Wyant
THE PROJECTIONIST
Jason Heller
THE WOLF'S PAW
Jeanne C. Stein
DANNIKER'S COFFIN
Keith Ferrell
DEEP WOODS
Aaron Michael Ritchey
DIAMOND WIDOW
Dustin Carpenter
THE CAMERA
Joshua Viola
LOST BALLS
Sean Eads
BATHROOM BREAK
J.V. Kyle
MARGINAL HA'NTS
Edward Bryant
DELICIOSO
Warren Hammond
THE LIBRARIAN
Joshua Viola
GURGLE. GURGLE.
Mario Acevedo
TAKING THE DARE
Gary Jonas
AFTERWORD
Edward Bryant
"Featuring an impressive line-up of speculative fiction luminaries—Mario Acevedo, Jason Heller, Jeanne C. Stein, Steve Rasnic Tem, Warren Hammond, etc.—this stellar collection of twenty nightmare-inducing short stories is appropriately titled: it's a check-underneath-the-bed-before-you-go-to-sleep kind of anthology."
—Paul Goat Allen
"A slew of gloriously disturbing, well-told tales to unnerve readers."
—Kirkus
"Rarely does such a strong, perfectly-curated anthology hit the shelves."
—Self-Publishing Review
"Filled with stories that tickle the funny bone and send tremors down your spine, Nightmares Unhinged keeps you guessing, thinking and... unsettled."
—IndieReader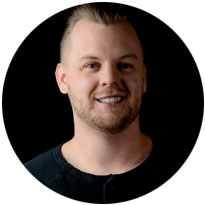 Joshua Viola is a Denver Post bestselling author, Colorado Book Award winner, and the owner of Hex Publishers.