True Believers
The First in a Three-Issue Slasher Series by Stephen Graham Jones, Joshua Viola, & Ben Matsuya, set at the Colorado Festival of Horror!
Experience the world of horror fandom like never before with TRUE BELIEVERS, a gripping and grisly new comic book mini-series co-written by New York Times bestselling Bram Stoker Award-winner Stephen Graham Jones and Denver Post bestselling writer Joshua Viola, with interior artwork by Ben Matsuya. The three-issue series, which delves into the world of slashers, cosplay, and fan conventions, is set at the Colorado Festival of Horror.
The first issue of TRUE BELIEVERS introduces a new bone-chilling slasher character, Killr™, who offers a sinister and unforgettable take on fandom. In the world of meta horror, Killr™ emerges as the embodiment of evil within the slasher genre, born from a cult-favorite short film that inspires a trilogy. Amid the franchise's rising popularity, devoted fans fervently embrace Killr™, celebrating the character with enthusiastic cosplay. At the Colorado Festival of Horror, fanatics Rip and Kit—proudly labeling themselves as "true believers"—embark on a profound journey of self-discovery under Kit's guidance. However, the boundaries between reality and fiction blur, prompting them to question the ramifications of idolizing such malevolence. This gripping meta horror tale delves into the intricate interplay of identity, horror, and obsession, challenging the very essence of their connection with the enigmatic entity they revere. The Kickstarter edition of TRUE BELIEVERS issue 1 features the first 24-page story in the three-issue series.
Learn more over on the Kickstarter Campaign!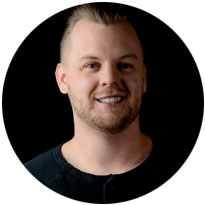 Joshua Viola is a Denver Post bestselling author, Colorado Book Award winner, and the owner of Hex Publishers.